Der Vorgang 203
done81@live.com
Abban
---
Der erste Kontakt 203
Anzahl der Mails: 3
---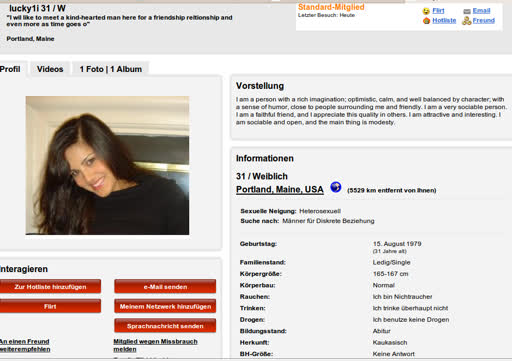 Es wurden insgesamt -- 3 -- Datensätze gefunden.
Mailtext
Hello dear,
I hope you
are doing good there for me as am also doing good here,i had a good
time talking to you well and i pray this well work well for us,Am a
very hardworking woman who loves to work in life to gain and acheive
what is right and good withouhurting anyone on this earth.I do believe
in a relationship which is from the heart of two people and that is the
only relationship which i can say it is very real and can last forever
beacause in this kind of relationship,there is
trust,love,care,honest,respect,hardworking and all other things that
will help to contribute to a true loving long term relationship
forever...
I know as a good woman i should be able to do
everything i can to make my relationship stand firm and to be in
peace,in know i can be a happy and a good responsible woman at home
when only i do what is right and what makes my man feel good at home
with me and shold not regret he has me by his side and i know this will
help us to build a healthy and a strong loving relationship and to have
a good family too as well in the near future,i try my best to make
people feel good and say what is real and good about me and i hate to
hurt others in life since i want to have good relation with every one
on this earth,am very simple and easy going as well and i do understand
issues very well when it is at the right time and will not hurt anyone
in life,i can say am always for good and i try my best to do that well.

A true love and a true relationship is what is from the heart and not
what is about materials in this world,there is always understanding
when you happen to find someone who will love and care for you from his
or her heart and in this kind of relationship,there is trust and the
believe in each is for real and there is no hurt too as well and peace
alwaysb rian in that family or love relationship forever
To find
the right one who will love and care for you and will always stand and
be by you in all life situations,bein it good or bad is what am looking
for and i guess you are also looking for the same as well,I know life
is all about finding what is good and whta will make us feel very
comfortable as well and love is also part of it,in know when there is a
true love there is a good commitment to each other as well,with
this,there is no hurt or cheating on the other, life always becomes and
feel very good when partners are very faithful to each other and i do
believe in that well.life will not always be good all the time there
are bad and good time as well and we should be able to fix up mistakes
and chanlenges and try to forget about the past and move forward for
what is right and good and what won t hurt anyone in life and try to
uinderstand each other and help hand in hand to make a good life and
undertstand each other as well to make and brink about a good and along
lasting relationship forever and for a good future for everyone,i love
to make friends alot but only when necessary and at good times too.Life
is all about love and i hope we can forget about the past now and fix
things together well for a good and a better future for us all,

i
will
love to hear from you too as well and will like you to tell me
eapecially about what makes you feel very good in life with your
partner and what you will like her to do for you to make you look and
feel good at home with her and what will turn you off in life as well
and also i will like it very well if you will also tell me more about
your self too,,am only here to look for
a very real man who will understand and care for me in all life
situations and be with me as i also do all i can to make him happy in
life,am online and am waiting to hear from you very soon,i do wish you
all the best in life dear and i will be very happy to chat with you
online too as well.
Hoping to hear from you very soon,from your dear one Abban...
I intensoinally send to you those pics to make sure if you are sure of what you are and aware of how bad people use to lis to other on the site,that is how i do to find my man and i want to be sure if my man is very current and do a lot of research to find more about the truth in this life to avoid what is wrong in life,io have done this to many men and those who believe the pic that it is real don t get the chance to talk to me again,i do this because that is how my heart tells me to do to find my man and i believe through this the very right man will understand me well and will like me as well,i wouldn t have write to you again now if you had believe the pic and that will tell me you are not serious and don t do a lot of search for what you want through this way i believe i will find my man,this is the address i use to find my man untill when i get to know he is very current and knows much more,if you can t identify the pic of Sunny loene then it means you are not current and not good for me because the pic is very common the every one can be able to use you just like that,i have for you now my real pic of me in my nurse dress and i want you to check for it every where and tell me if you happen to see it is a pic of another person,sorry to hurt you,i only did that to find out if you are the right man for me,i don t want a man you knows nothing but very current,i can t false you to write to me now in anyway but i hope you understand me well and write to me again,please do write to me again and tell me if you are interested or not,am really here for a serious reltionship and this is how i go about that to make ,y choice and i know know you are very serious here and very intelligent too as well,hoping to hear from you very soon and i really hope you will understand me well,the name is the same and am Abban,
I hope you are doing good today,
Am okay if you don t believe me this time too,i wish you the best of time to find your love,have a good time and God bless you and give you all you want in live to make you a happy man in life all the days of your life time,AMENm
take-care and stay-bless,bye
Seitenlinks
Linkliste
RSS-Feed