Der Vorgang 41
hopegeneva@yahoo.com
Geneve
---
Der erste Kontakt 41
Anzahl der Mails: 13
---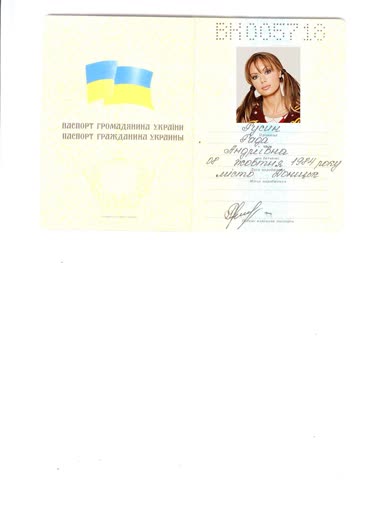 Es wurden insgesamt -- 13 -- Datensätze gefunden.
Mailtext
hello!
i am very glad that you have replied to my add!
as you know, i am seeking for my second half!
i would like to start the relations with someone who will be with me
forever.
i would like to go overseas as i don t see here my future.
now i will tell you a little about my life here and about me.
i have graduated from the university here in dnepropetrovsk, and now i work as
the strip dancer in the night clubs and as the model in the model agency..
i live alone, i hire the flat.
my parents live in the small city called maleevka. it is about 40km from kerch.
i have a lot of friends, with whom i like very much to spend the spare tinme.
we like to go to the night clubs, to spend the time on the nature,
making the barbeque. do you know this?
sometimes it is very good to be alone at home watching tv or reading some
interesting book. I like very much different romans, historic books.
I like also very much to cook. Especially the dishes of meat i prepare very
delicious.
darling i don t know what else to write in the first letter , really.
it is better if you ask me and i will reply then.
i send you my photo and waiting from you yours one and certainely for your reply.
rada
hi janiek !



For your thinking too I am very interested in you.
darling what can i tell you about my life?
I have many friends and we enjoy our meetings, but I would be more happy if I would have a man to share my free times in the travels and in the other weekends for rest and fun.
I like to read , listen music (classic, opera new age and some popular), talk with friends, go to restaurants.
My character is good for communication and is strong to face the life
I want to know a you for a good relationship and make a future together. I think the relationship man-woman, has to be based on mutual respect and help. The man is in charge of financial situation and makes guide the family, the woman is in charge of home,

I have 2 main goals in my life: a) healthy and happy life and b) give and get love in relationship man-woman and to have children (one, maybe two )
I hope you will find coincidences in our thinking like I did it.
I am not looking for a long mail relation if we continue interested each and the other;
I am serious about this because I want a good life and I want to know the man to share the life only in the good way.
I am waiting your answer
kisses, your friend rada with great hopes for our common future!!!
hello dear janiek

At first I think that i am so much interested in you and I have only good intentions.
you should know that I am not very good writer in english, please be patient to read my
messages and see many mistakes. to be fair I don t know what you want to know about me,in
principle I am usual girl.I think I should tell you about me, my interests,tastes and
hobbies.
I just want you to know that I am not
afraid to work,I am family girl oriented and I am sure you will be not disappoined to meet
me in real life.


I want to love and to be loved I want to build our own happiness,only me and my man there.
I don t smoke,I tried to smoke when I was younger. I may have a glass of red wine,
sometimes it helps to relax. I try to take care of my body and face.
i really hope very much for our meeting in real life. i am not interested in correpondence
for ages, and you?
what do you think if we meet soon? as for me, i would like to leave ukraine , i thought
perhaps it would be possible for me to come to your place? i will work somewhere in cafe or
bar as waitress or i can work as the fitness trainer, i have the certificate, and after
i will find something more better.
a lot of people start with this.
how you think, it would be possible?
ok, i will not bother you anymore with my crazy ideas, will wait for your responce.
bye for now, kisses.
hi dear janiek

it depends on what do you mean by if it is possible for me to come in germany?

if you mean finacially, no.

if you pay for the trip then yes, it will be possible.

kiss from rada
hi my dear janiek



i am very glad to hear from you.
and i am so happy that you invite me .
you know it would be the most pleasant present for me.

i was in the travel agency and she told me that it is possible to draw up the documents in 2 weeks.
i need to make the international passport , to open the visa and pay for the tickets.
it is the obligatory condition , i have tp pay for the tickets and they will help me with visa.
the passport costs 200 and the visa is 170$.
and the most cheapest ticket to berlin costs 340$.
ok my sweet heart, i will wait for your reply .
my kisses
hello dear janiek

i just asked as for the ticket to dusseldorf, so it is a little bit more expensive.

360$.

as for the western union, there are a lot of departments here.

so you can make the transger.

you will need my full data:

Rada Rusin

Ukraine, kerch, pobedy street 56/89

i also will need your full name and address.

kisses, waiting for your news.
hi dear janiek

ok , thanks for the info, i took my ukrainian passport and i will go now there.

after i will emai you if everything is ok.

kiss from your rada
hello janiek

i was in the western union but there is no such transfer!

so , check with your bank.

rada
hello

i translated this letter and they told about transfers to african countries!

and i live in ukraine!

but ok, i attached you the copy of my ukr.id.
hello

so no any news still?
hi again

yes the wu works today here.

i can try to receive it, if not then on monday morning.

tell me again the info i need for this?
i think you decided to play with me or what???

i called now to the wu and they said that THERE IS NO SUCH TRANSFER!!!!!!
fuck you, crazy ugly mother fucker!
Seitenlinks
Linkliste
RSS-Feed